Posts for tag: braces
By Dental Associates of Shelton
August 30, 2021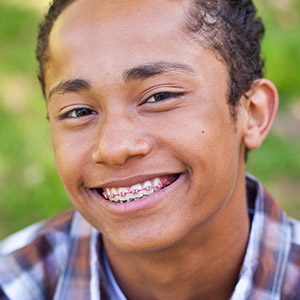 Braces are so common that we often view them as "ho-hum." But there are aspects about braces that make them remarkable. For one, the fact that we can move teeth at all is a wonder of nature.
We normally experience our teeth as firmly set in the jaw, which can easily lead to assuming they're permanently fixed to the bone. They're not. Teeth are actually held in place by a fibrous gum tissue called the periodontal ligament that lies between them and the jawbone. The ligament anchors to both with tiny fibers, which on the tooth side affixes within a thin substance called cementum deposited on the tooth root.
As we said, we don't normally notice teeth moving. But the periodontal ligament does allow movement on a miniscule scale as a response to normal pressures that accompany biting and chewing. Although we're unaware of it, this movement takes place as the bone and cementum ahead of the direction of movement begin to dissolve. Simultaneously, new bone and cementum develops on the other side of the tooth to stabilize the movement.
Orthodontic treatment takes advantage of this natural process. The anchored wires of braces through attached brackets place pressure on the teeth in the intended direction for tooth movement. The natural mechanism described earlier does the rest. Over time, orthodontists have developed an amazing amount of precision working within this mechanism.
Another aspect about braces and other methods we may take for granted is our motive for even trying to move teeth in the first place. It may seem we're only realigning teeth to produce a more attractive smile—which they can do and why we often refer to braces as the "original smile makeover." But there's an even greater desire—straightening teeth can improve dental health.
Poor bites in turn cause other problems. Misaligned teeth are more difficult to keep clean of bacterial plaque, which increases the risk of disease. A poor bite can also accelerate teeth wear and contribute to gum problems like recession. We can eliminate or minimize these problems through bite correction.
Whatever your age, braces or other means can vastly benefit your health and your appearance. They may not always seem so, but braces are one of the true wonders of dental care.
If you would like more information on bite correction through orthodontics, please contact us or schedule an appointment for a consultation. You can also learn more about this topic by reading the Dear Doctor magazine article "Moving Teeth With Orthodontics."
By Dental Associates of Shelton
November 08, 2016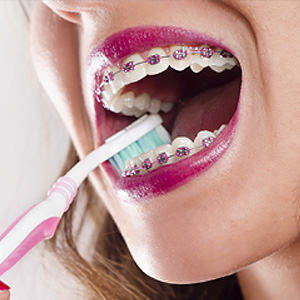 If you or a family member wears braces, you're used to visiting your orthodontist for adjustments and progress monitoring. But it's just as important that you continue regular visits with your family dentist, especially if you begin noticing abnormalities with your teeth and gums.
We need to be on alert for dental health because risks for disease increase during orthodontic treatment. Most oral infections arise from plaque, a thin film of bacteria and food particles on tooth surfaces. You avoid plaque buildup by brushing and flossing at least once a day and undergoing semi-annual office cleanings for any remaining plaque and calculus (hardened plaque deposits).
Braces, however, can complicate hygiene. It's harder to get into areas blocked by the brackets and wires with your brush or floss. This can quickly give rise to gingivitis, a form of periodontal (gum) disease characterized by gum swelling. If not treated, gum disease could eventually cause the gums to detach from the teeth and lead to bone and tooth loss.
The brackets and wires can also irritate the gums and cause them to swell or overgrow, a condition called hyperplasia. This further complicates proper hygiene, which then increases the risk for infection even more.
It takes more time and effort to brush and floss effectively while wearing braces. But it's necessary to prevent these problems. Interproximal brushes (which fit in the spaces between teeth) can help, as well as special floss threaders. You might also consider a water flosser, which use a high-pressured water spray to remove plaque between teeth.
And, don't neglect seeing us on a regular basis. If you notice gum swelling, redness or bleeding, contact us as soon as possible.
If the swelling is due to hyperplasia, treatment could wait until after the braces come off, as long as there doesn't appear to be any gum detachment from the teeth. If there is, though, you may need to see a periodontist (a gum specialist) for further evaluation. It may be necessary in advanced cases to remove the braces to treat the underlying gum condition.
It pays to keep a close eye on your teeth and gums while wearing braces. Catching problems before they become too serious will help ensure your new smile is just as healthy as it is attractive.
If you would like more information on dental care while undergoing orthodontic treatment, please contact us or schedule an appointment for a consultation. You can also learn more about this topic by reading the Dear Doctor magazine article "Gum Swelling during Orthodontics."
By Dental Associates of Shelton
September 16, 2016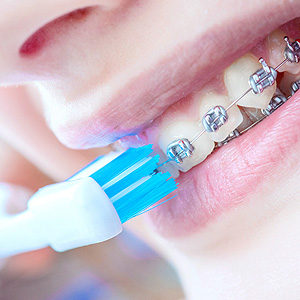 Orthodontic treatment is a big investment. But given the benefits for future good health and a more attractive smile, it's well worth it.
In the here and now, though, braces wearers face a different threat to their dental well-being — dental disease. Wearing braces can actually increase the risk of disease and make it more difficult to fight.
Tooth decay and periodontal (gum) disease, the two most common forms of dental disease, usually arise from plaque, a thin film of bacteria and food particles on tooth surfaces. The bacteria produce acid, which erodes enamel and makes the teeth susceptible to decay. Certain bacteria can also infect the gums and eventually weaken their attachment to teeth. Thorough brushing and flossing everyday removes this disease-triggering plaque buildup.
But braces' hardware can make brushing and flossing more difficult. The brackets attached to the teeth and wires laced through them make it more difficult for floss and brush bristles to access all the areas around the teeth. Plaque can build up in certain spots; it's estimated braces wearers have two to three times the plaque of a person not wearing braces. Acid can also remain in contact with some of the enamel surface for too long.
It's important, therefore, if you wear braces to make a concerted effort to brush and floss thoroughly. Besides improving technique and taking more time, you might also consider additional aids. You can obtain toothbrushes specially designed for use with braces, as well as floss holders or threaders that make it easier to access between teeth. Another flossing alternative is an oral irrigator that sprays water under pressure between teeth is an alternative to flossing.
As a precaution against acid damage, we can boost enamel protection with additional fluoride applied to your teeth. We may also prescribe antibacterial rinses to keep the bacteria population low.
Above all, be sure to look out for signs of disease like swollen or bleeding gums or pain. As soon as you sense something out of the ordinary, be sure and contact us.
If you would like more information on keeping your teeth disease-free while wearing braces, please contact us or schedule an appointment for a consultation. You can also learn more about this topic by reading the Dear Doctor magazine article "Caring for Teeth During Orthodontic Treatment."